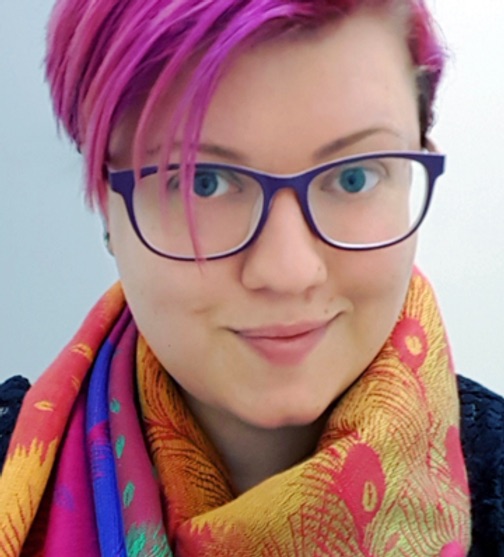 Contributor profile
Chelle Parker
Copyeditor, 2018–Current; Managing Editor, 2021–Current
Chelle Parker is a queer, nonbinary, neuroatypical, disabled nerd and has enjoyed an unusually colourful life, having lived in or visited fourteen countries on four continents and learned seven languages along the way. Chelle's background is primarily in education, where they spent eight years teaching English, French, math, science, and life skills to at-risk junior-high students, but they've also worked in a peculiar array of other environments. These range from daycares to sexual health clinics, doing jobs as diverse as librarian, baker, radio DJ, and Braille transcriptionist—all while editing on the side.
Chelle's staying put for the moment (more or less) in their hometown of Ottawa, Canada—on unceded Algonquin Anishnaabeg territory—where they wield their trusty red pen as a full-time freelance editor, act as the managing editor of Fireside Fiction Company's Fireside Magazine, and serve as a human shield for their chronically anxious rescue dog. Some of their more notable editing clients include animation giant Mediatoon's Europe Comics imprint (for whom they edit graphic novels translated from French into English), Fireside Fiction Company (for whom they also copyedit and proofread all the short stories, essays, and poems that are released through the magazine), and Publishers Weekly's BookLife Reviews (for whom they have fact-checked and edited reviews). As part of the Fireside team, Chelle was a Hugo Award finalist in 2019 and again in 2020. They also devote a significant portion of their time to their role as the Program Co-Chair for Readercon, a world-renowned conference on imaginative literature; there, Chelle helps develop the program and select panelists, helps build and edit all participant bios, and also edits the annual Program Guide and Souvenir Book. They also volunteer as a grants juror for the Speculative Literature Foundation.
If you're ever in Ottawa and notice someone's taken a handful of colourful Sharpies to ugly comments on the inside of all the public bathroom stalls, there's a good chance that someone was them.
Website: mparkerediting.com • @chellenator on Twitter
---

Chelle's Writing in Fireside

---

Chelle's Developmental Editing Work in Fireside

---

Chelle's Copyediting Work in Fireside

---

Chelle's Acquisitions for Fireside